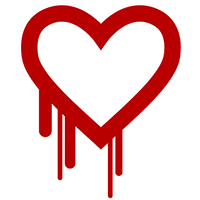 You may have heard reports in the media concerning the Heartbleed bug which is a vulnerability in a widely-used security software library.
The good news is that our server was patched on April 7th 2014, closing this security hole. We would stress that, to date, there is no evidence that the security of the our server has been compromised. However, in common with the majority of web hosting and email providers, we're advising our clients to change their passwords as a precautionary measure.
We all know that storing and remembering passwords is a chore, but there are some good reasons to consider changing them every 3-6 months. Whist there is no immediate cause for panic, regularly changing your passwords is something we would strongly recommend. To put it in perspective, consider the impact on your business of stolen credentials being used to :
send out large numbers of emails from your account (usually spam) – this can result in your domain name/email address being "blacklisted" and/or other recipient systems not trusting mail from your domain
insert malicious code on your web site that either redirects traffic to someone else's site, or posts links that will damage the reputation of your business.
If you need help managing large numbers of passwords for different sites and services, may we recommend a free Windows/Mac utility called KeePass.
KeePass allows you to store multiple passwords all in one place, and to enter them using a simple keystroke.
If you need assistance in changing passwords for either email or your control panel (cPanel) services – please get in touch, by calling 0131 202 6612.