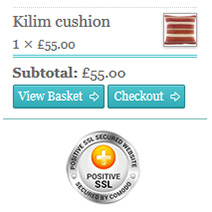 We have been working closely with Scott Heron to produce a new web site for Edinburgh based Interior Designer Jessica Buckley. The redesigned site, www.jessicabuckley.co.uk  which launched earlier in the month features a portfolio of her work along with an online boutique.
Jessica had very clear ideas about how she wanted the site to look and we were able to translate her design sketches into a functioning website that provided the required functionality whilst remaining faithful to her vision.
The boutique is now open for business.