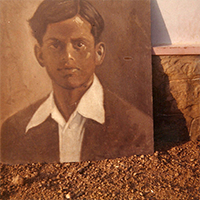 I have just completed the promotional material for Annie George's forthcoming production "The Bridge" which is being premièred as part of this year's Edinburgh Festival Fringe
"The Bridge is a solo performance piece, blending text, sound and visual design. The starting point is a quest to piece together the life and lost work of Paduthottu Mathen John, a poet and author from pre-Independence Kerala, India. Along the way, stories of courage and survival are uncovered, and charts his family's journey to the west.
Traveling back from present day Scotland, The Bridge considers how our histories are told and who tells them, and the silences in between which gives rise to myth or invention. It reflects on identity, belonging and the power of the pen."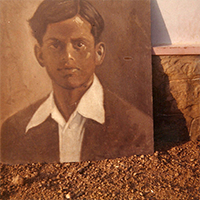 The only visual reference Annie had of her late grandfather was a photograph that she had taken of a painted portrait, captured during a childhood visit to Kerala. Both Annie and I felt that either the original painting or the resulting 35mm image would work well for the promotional material. Unfortunately the painting has since been "restored" and now bears little resemblance to the one in the photo and the photographic print is typical of its time (developed at Boots, 36 tiny prints for £2.99, that sort of thing) so not high enough quality for reproduction up to A2 (and beyond). So I took the 35mm print, scanned it, cropped it down to include just the painting, then vectorised the result. We then played around with with a few variations until we arrived at the final version.
"The Bridge" runs between 1st and 25th August at St John's Church, Princes Street and is part of the Just Festival.