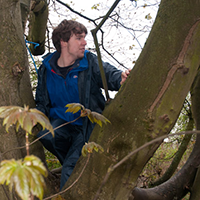 We have just completed another photographic assignment for Forestry Commission Scotland (FCS). The brief was to photograph the final session of "The Way Of Woods" project which was delivered over the last few months by Joanna Boyce of Creative Art Works.
The project plan was focused on delivering an innovative outdoor creative arts/environmental project specifically designed to help develop life skills, confidence and responsibility in young people with additional support needs from Teen +. Teen + is an Edinburgh-based, full time, transitional education project for young adults, aged 17 to 24, with complex additional needs such as autism, communication difficulties, challenging behaviour and severe learning difficulties.
Joanna's work often meets some very specific (and serious) needs, and that was certainly the case here, but that didn't stop it being a lot of fun for all involved, myself included. Thanks to FCS, Creative Art Works and staff and clients of Teen + for allowing me to share in the closing session of their successful project.
no images were found