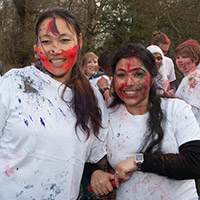 It's while since Lunaria have been directly involved in helping to create an event so when the opportunity arose to help create a "Spring Holi Day" for the Forestry Commission Scotland I jumped at the change.
For those that don't already know…
"Holi is a spring festival also known as festival of colours, and sometimes festival of love. Originally an ancient Hindu festival it has now become a celebration enjoyed by people from all communities. Today everyone is welcome."
One of our key roles was to create the pre-event publicity, provide photographic coverage on the day, and publish a report on the days activities after the event. Added to this were the usual planning, discussions, meetings and general "fetching and carrying" that are required in the run up. Hard work but good fun. and the results on the day certainly seemed to justify all the effort.
no images were found