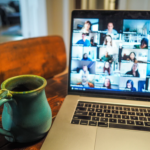 2020 saw upheaval in the technology market as organisations sought to maintain continuity through online platforms such as Zoom. At Lunaria, we've been working hard on the Event Management and Digital Marketing aspects of our business. Using Zoom for technical support and also to deliver online events for clients such as the Just Platform, we've reached a better understanding of the pathway:
Organise Digital Events
Promote on Web Site and link to Social Media
Event Registration and Ticketing using Eventbrite
Link to Zoom for meetings and webinars and finally,
YouTube for post-production editing and content distribution
Whether you're a charity, not-for-profit or SME, we can assist with these critical aspects of promoting and maintaining your digital identity.
If your business or charity is seeking a technical partner for Event Management and Digital Marketing, please get in touch.